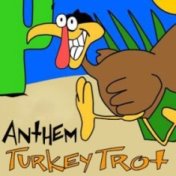 On Thanksgiving Day, bright and early in the morning, we packed into the car and hustled over to Anthem, AZ (about 45 minutes from our home in Scottsdale). There, along with about a thousand other people, we did the Turkey Trot. It's an annual event held every Thanksgiving Day for runners of all ages and skills.
The event sponsors, 4 Peaks Racing, host both a 10K and a 5K every Thanksgiving, and since we were pushing the stroller with our 2-year old, we decided to do the 5K. This is the eleventh year that they have done this event and our first year at the event. It's hugely popular in Anthem, and judging from the crowd, most of the people were local to Anthem.
We had a great time with this event. The weather was beautiful; about 55 degrees. We finished about halfway in the pack, out of about 1,000 runners. We'll most likely do this event again next year, or perhaps one of the other Thanksgiving morning events around Arizona.
We finished with a time of 49 minutes, a 16 minute pace.